Who are we?
At NATORG, your health and wellbeing is as important to us as it is to you. But when life gets busy, we know how difficult it can be to give your body what it needs to stay strong, healthy and nourished.
That's why we've made it our mission to produce premium-quality supplements you can trust.
Specialising in 100% natural ingredients sourced in New Zealand – and organic components every chance we get – we harness New Zealand's powerful bioactive properties to create high-strength health formulations.
Fortified into high-potency formulation, we extract the purifying and nourishing qualities from some of New Zealand's most potent, native ingredients, such as Colostrum, Green Lipped Mussels, and Blackcurrant. And, because we're serious about the science behind our supplements, we only ever use ingredients at a level where they'll make a significant contribution to your wellbeing.
So no matter how busy life gets, you can trust NATORG to give your body the natural and organic nourishment it needs.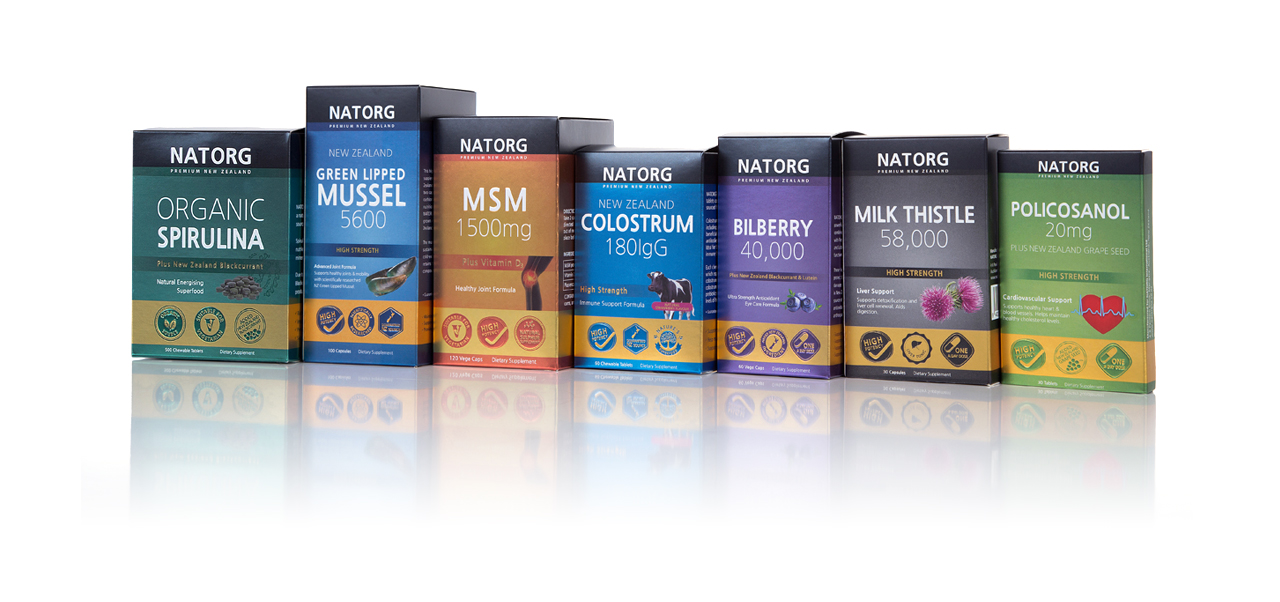 Why we use New Zealand ingredients?
Due to its geographical isolation, New Zealand has a unique natural environment. More than 80% of the native plants are indigenous and found nowhere else on earth. This gives them remarkable bioactive properties that offer powerful health benefits. All of which we use in our health supplements.
Three of our core ingredients are:
Blackcurrants
Naturally loaded with antioxidants, anthocyanidins and high levels of vitamin C, New Zealand's blackcurrants a rich burst of nature's most powerful nutrients. Scientifically proven to boost your immune system, reduce inflammation, and promote blood circulation and optimal eye health, the unique properties of New Zealand blackcurrants support overall health and wellbeing.
Green Lipped Mussels
Native to New Zealand, Green Lipped Mussels are rich in biologically-active compounds that are known for their anti-inflammatory properties. Used to promote joint health and mobility, we use a naturally potent Mussel extract called Biolane®, which has been proven to help reduce pain and increase movement in arthritic or damaged joints.
Colostrum
Sourced from hormone and antibiotic-free pasture-fed cows using premium processing, New Zealand colostrum is some of the best in the world. Rich in powerful bio-enzymes, colostrum strengthens our immune system and builds our natural defence against harmful pathogens. With multiple research-proven benefits, colostrum helps increase vitality, strengthen bones and muscles, promote a healthy gut, and support anti-inflammatory conditions, neurological disorders and allergies.